March 20th, 2017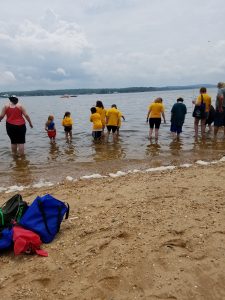 This year's Cecil County Wade-In was held in Charlestown!  We learned lots of way to make the Chesapeake Bay a healthier environment with things we can do in our own backyards.   Hosted by Charlestown  while Elk Neck State Park has some construction done, we got a lot of positive feedback from vendors, organizers and attendees.  There is some hope that we might alternate going forward with Elk Neck as hostees.  We took our stroll from Foot Log Beach and made 27″ depth of water clarity before our shoes disappeared!  The picture at left shows the wade-in from Foot Log Beach!
Exhibitors were on hand to give us lots of information!
Scales and tales was also there with an assortment of rescued wildlife.
Did you know that the apple core you toss out your window as you go down the road may end up in the mouth of a mouse? The mouse is hunted by an owl, who sees him while he's crossing a road. Then that owl trying to swoop down on the mouse may get hit by a car as it swoops after the mouse?
A musician was present to entertain while we looked at the exhibits. He got the kiddos involved in his band.

Here's a couple of pictures learning about the fish in our bay who live near the shore.
They caught some in a seine net to show that they are there!