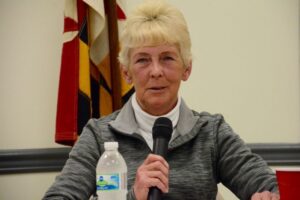 Loucretia Wood was born in Wilmington, Delaware.  She resided in Newark,  Delaware with her family, Walter and Suzanne Hutchison and brother David until 1980.  They moved to Charlestown for the beautiful area and waterfront living.  She married her husband, Dennis Wood at St. Johns United Methodist Church.  She has 4 children, 1 stepson, and 14 grandkids.
Lou attended Newark Senior High School, and also completed the Maryland Correctional Training Academy.  She graduated with top honors earning a blue ribbon.  She then went on to the Maryland Police Academy, where once again she excelled as President of her class and graduated with top honors.  She has also been through many specialized schools and training seminars during her career in Law Enforcement.
Lou has been recognized by many notable organizations including the VFW as Officer of the Year, Cecil County's Most Beautiful Person nominee, and many local schools.
Lou's mission as a commissioner is to bring positive and harmonious change to the Town while respecting its history.
email:  lwood@charlestownmd.org
phone:  443-967-3871