November 20th, 2019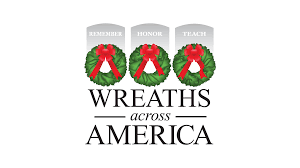 Wreaths Across America Charlestown Cemetery
December 14, 2018 11:30 AM
On December 14, 2018 Wreaths Across America will be at the St. John's Methodist Church in Charlestown followed by the laying of Remembrance Wreaths at the Charlestown Cemetery  on the graves of our Veterans. We invite all to come and help remember our Veterans and to attend the short ceremony at 11:30 AM. Lunch to follow at the Firehouse.