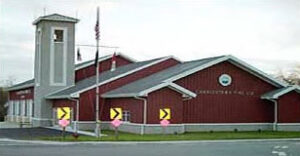 P.O. Box 111
307 Market Street
Charlestown, MD 21914
(410) 287-6451 Main Station Line
(410) 996-6265 County Tie Line
(410) 287-2843 Fax
(410) 287-3044 Hall Rental Line
The Charlestown Fire Company protects an area of approximately 35 square miles and approximately 3000 full time residents. This number swells to around 5000 when the summer season is in full swing. This area includes schools, churches, industrial and commercial complexes, restaurants, marinas, campgrounds, developments, highways, railroads and shipping lanes.
Charlestown Fire Company's area boundaries include Charlestown, Charlestown Manor, Route 7 Eastbound to Broad Creek and Westbound to the area of the weigh scales, right side of Belvedere Road to I-95, all of Carpenters Point and Mountain Hill Road to the underpass and the left side of Charter Hall Road. Our area also includes the Charlestown side of the North East River and a large portion of the Susquehanna Flats.
The fire company's premier Emergency Medical Services (EMS) provides Basic Life Support (BLS) and also Advance Life Support (ALS) with the latest in technology and equipment. Our trained crews comprise of Paramedics, EMT-IV Techs, EMT-Basic & First Responders.
Charlestown Emergency Preparation
Click the link below to enter our Emergency Preparation Page for helpful hints to prepare you and your family in the event of an emergency
Town Emergency Numbers
Town Hall
410-287-6173
After Hours Water Emergency                                                                                                                                                                                                                                                                               443-553-5464
Wib Pumpaly – Town Administrator
410-287-8829 Home
443-553-5464 Cell
Town Maintenance Department
443-553-1054 Cell
443-553-1053 Cell
Cecil County Department of Emergency Services
410-996-5350 Office Non-Emergency
Cecil County Public Works
410-996-6260
The Charlestown Fire Company is operated solely with volunteers. We are always looking for additional fire and/or EMS personnel. Please call or stop by to take a tour of our facility. If you are interested in joining, please fill out an application while you're there.
If you have an event and need a hall to hold it, please call Tom Bicking at (410) 287-3044 for pricing and hall availability.
Union Hospital
106 Bow Street
Elkton, MD 21921
(410)-398-4000
(410)-392-9486 (fax)
University of Maryland Upper Chesapeake Health
501 South Union Avenue
Havre de Grace, MD 21078
(410)-939-5000